Here's a nifty little item recently highlighted on The Gadgeteer.com. Ocean's Reach is mentioned so we just had to share!
Relaxing with a good book on your iPad at the beach just got easier
One of my favorite vacation activities is reading a good book at the beach. Our usual destination is Sanibel Island, Florida at Ocean's Reach condos where we usually carry chairs and an umbrella down to the beach so we can relax in the shade which is important if your method of reading is an iPad or Android tablet. But for those of you who like to actually lounge on the sand/beach and don't want to rent or drag around bulky umbrellas and chairs, another solution is a ShadyFace Sunshade.
The ShadyFace Sunshade is a portable folding canopy that can be used when you're laying on the ground, or it can be attached to a beach chair to provide an adjustable sunshade that has a built in universal tablet holder.
The top tilts up 180° or down 20° to block the sun's rays so you can see the display.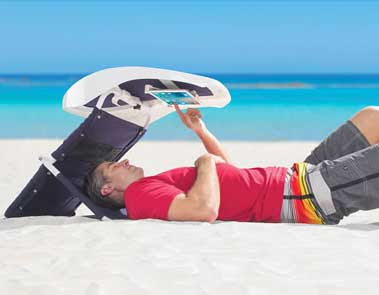 The shade is made of ABS plastic so it's light weight but strong, and the frame is made of aluminum. Everything folds up into a compact format and stows in an included canvas backpack for easy transport.
The ShadyFace Sunshade is priced at $149.00 and they also sell a pet sized version for $129.99. Visit shadyface.com for more info and Amazon to order.